Jolo, Sulu can be reached through a ferry ride from Zamboanga City. Ferries leave Zamboanga Port every evening and arrive in Jolo at about four in the morning.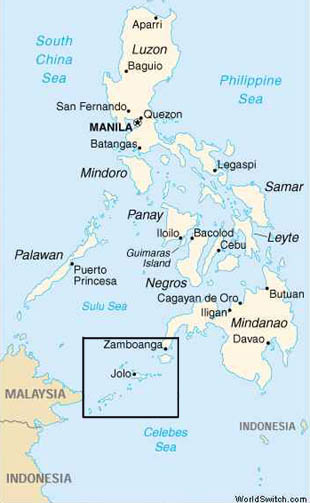 Quezon Beach is located in Barangay Igasan, Patikul, about twelve kilometers from Jolo Town. According to travel blogger
Ivan Henares
, you need to pass by several military camps and check points before reaching this place. Due to the political and cultural conflicts in the area, tourists need security escorts in order to visit this paradise beach.
Not a few bloggers declared Quezon Beach as the best beach in the Philippines, even better than the world-famous Boracay. And judging from their photos, it is not too hard to agree.
According to
Ivan Henares
:
"...I could see that the beach was stunning even with the overcast skies. The beach was wide and the water was baby blue. I was told that further down the road, the sand was even finer, powder fine in fact to rival the best beaches of the country."
Another blogger,
Gio Sabio
, narrated in his
pbabase,com post
:
"Somebody once told me that the best beach in the Philippines is not Boracay but a certain Quezon Beach in Patikul, Sulu. As an avid fanatic of Boracay, I was skeptical about his claim ... until I recently got the chance to actually set foot in the fabled Quezon Beach. True enough, it's definitely a notch greater than Boracay in terms of fine sand, clear waters, and the immensity of the beach area. To top it off, it's far from being commercialized. It is probably the best beach in the Philippines!"
Take a look at these photos of the Quezon Beach in Patikul, Sulu and judge for yourself:
It is very unfortunate that due to security reasons, many of us may never set foot in this place which is indeed a paradise island. But who knows, someday the conflicts might be resolved and peace and order will finally reign. By then, Quezon Beach in Sulu will definitely be high on my bucket list of must-see places in the Philippines.